Beer Run: Building Community One Pint at a Time
Brewery run clubs help build community — one sweaty pint at a time.
It's a typical weeknight at a Seattle brewery — or so it seems. As darkness falls, the patrons realize they are being infiltrated by a quiet army, spandex-clad and neon-strapped. These foot soldiers swill water, not beer; they stretch, tighten their laces and mill about. 
The crowd grows ever-larger, until a leader calls the group outside. A few moments later, they take off running, disappearing into the distance. An hour later, they're back: sweating, rosy-cheeked, smiling and high-fiving. Now they tilt back a well-earned brew. 
This is run club, and it happens at breweries all over Seattle most nights of the week. Beer runners are bound by delayed gratification, putting a run before a cold one at the end of a long day. They motivate one another to set and achieve ever-higher goals. They push through aches and pains and punishing elements — and share in the victory of achievement at the end, quad-stretching in the beer line and clinking glasses as the sweat descends. 
However, run club is more than just a place to sweat and drink. It's a family that encompasses group members, leaders and the breweries that host them each week. Here's how Seattle running groups are building community one pint at a time.
Frelard Run Club: Forging a Family of New Friends
Among the most popular groups is the Frelard Run Club, named for the amorphous geographic area encompassing Seattle's Ballard and Fremont neighborhoods. It was founded by Anna Friedman, a Seattle native and physical therapist who discovered run clubs were a great way to meet people while attending grad school in Denver.
"My friends and I would go to a different run club almost every night of the week," Friedman recalls. "When I started working in Ballard, … I couldn't find a group that matched up with what I wanted. So I decided that when I had an established career, I would start my own."
While other groups have a large core of tight-knit regulars, many people come to Frelard "because they're new in town, they've had a life change or they just want a new experience," Friedman says. "One of the best things about it is that it's so welcoming. People can just feel confident, and find themselves again."
Originally called Ballard Running Group, Friedman founded the club in 2015 under the umbrella of her employer. When she started her own practice in 2017, she reorganized the group in its current incarnation, taking many members with her.
"The goal was to have a fun social group where people worked out and ran, but also felt comfortable talking and mingling," Friedman says. "That was so important to me when I was in a new city." 
Today, the group boasts over 1,000 members across Facebook and Meetup.com. Every Thursday at 7:00 p.m., anywhere from 10 to 50 runners flock to a different brewery in Ballard or Fremont.
While locations rotate, there is one recurring monthly run at Lucky Envelope Brewing: the group's official sponsor. The relationship is as old as both the brewery and the run club itself, says Director of Operations and Co-Founder at Lucky Envelope Raymond Kwan. 
"Run club has been part of our identity [at Lucky Envelope] the whole time," says Kwan. When the brewery was brand new, Friedman asked them to host her original group, he recalls; when it became Frelard, "she stuck with her old business partners." 
Tasting Room Manager Hanna Conway observes that the group has grown substantially over the past year alone: from a handful of regular attendees to crowds of 30 or 40, even on cold and rainy winter nights.
"Whatever Anna and company are doing, they're doing it right," Conway says. She adds that the relationship with run club is mutually beneficial, because "there are more people every time, and we see those same people come back throughout the month." 
To Friedman, the success of the group is in its foundation: a true desire for kinship with others who love running and want to discover great beer in their own backyard. 
"I've been to run groups where they're just doing it for work, or because they're paid to. … Then people don't go," she says. "But if it's something you're passionate about, then it becomes your community. It really is like a family."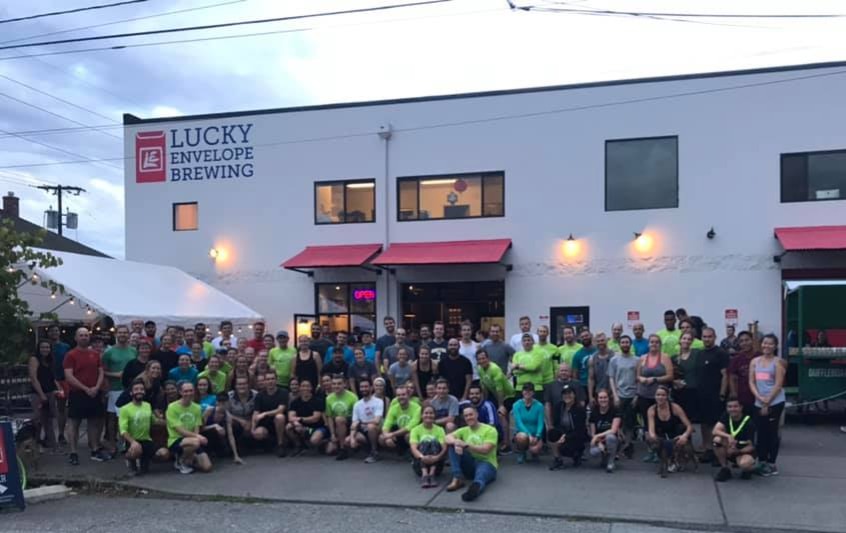 Flying Bike Run Club: Celebrating the Neighborhood's Living Room
The Flying Bike Run Club (FBRC) meets every Wednesday at 6:30 p.m. at the Flying Bike Cooperative Brewery in Greenwood — or, as members affectionately call it, "the Bike." While most groups switch up locations, this one stands apart for its standing home and its uniquely intimate community. 
Now with over 300 members, the group was dreamt up in early 2016 by then-bartender and ultrarunner Ryan Thrower; David Wiegand, who serves on the brewery's board of directors; and patrons Dana Hansen and Cody Ring-Rissler. Talking over drinks, they found a common interest in creating a group around two shared passions: fitness and beer. 
"We [wanted] to build a community around running," Wiegand says. "We thought it might be a way to build up the number of people in the brewery while having a good time."
So they decided to meet for a run the following Wednesday, reward themselves for their efforts with a beer — and the rest is history.
"We did it one week, and then we decided to do it again the next week … and now it's crazy," Hansen says, noting that on any given Wednesday, FBRC boasts a 15- to 40-person turnout of runners of all skill levels. 
"We have people who are winning marathons on the weekends, and then we have people who haven't ran in years. No one's going to judge you," she adds.
While new members often drift in, the group has fostered a core of loyalists who rarely miss a run. And the brewery itself plays a central role in fostering what Hansen describes as a "great symbiotic relationship," welcoming the sweaty hordes each week with a smile. 
As Washington state's first member-owned and -operated brewery, community is a core value of the Bike. Head brewer Kevin Forhan sees this as a local reflection of a European ethos, wherein the neighborhood pub is treated as a sacred space: "the community's living room," as he beautifully calls it. 
FBRC is a central part of that community, and Forhan describes his relationship with the group that regularly invades his living room with a twinkle in his eye.
"I always wonder, 'Why are all these people in their underwear?' And then, suddenly, everyone's gone," he says. "An hour and a half later, everyone's back. And then I remember, it's Wednesday; it's run club."
Forhan feigns annoyance, but quickly breaks into a warm smile, adding, "I'd really miss it if there weren't a run club here every week."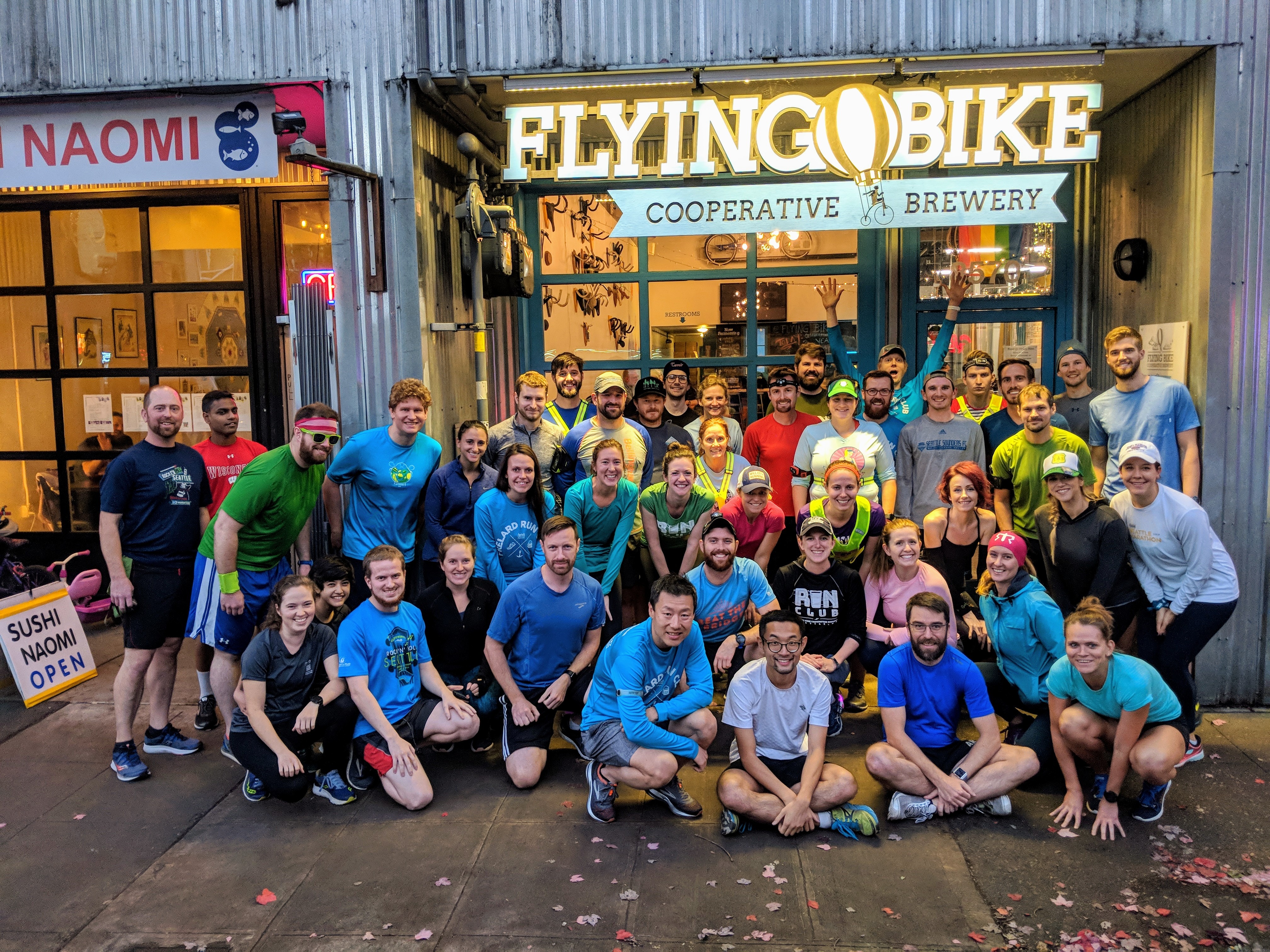 Rainier Runners: Touring the City Through Running
Steve Quigg is co-founder of Rainier Runners, which he and his cousin, Sara Rubio, started in 2013. 
Every Thursday at 6:30 p.m., the group gathers at a bar in a different neighborhood "to break up the work week, [and] to get people off their screens to do an activity, communicate and socialize," Quigg says. Inspired by a run club he attended in Tacoma, the mission of Rainier Runners is "to bring people together," and to tour the city while getting a workout. 
"Even if you're new to Seattle, you can join our group and see different bars," says Quigg. "It's really exciting to have something like this [here], where there's such a strong brewery and beer community." 
To this end, Quigg and Rubio plan the group's 5K routes for the whole year all at once "to make sure we hit enough neighborhoods," Quigg says. However, if a fun opportunity arises, they take advantage, such as a summertime route through Madison Park that ended with a jump in the water, or a run from Capitol Hill's Rock Box karaoke bar where members sang their victories from the stage.
"In different neighborhoods, different people show up," affirms Quigg. "We have a good core that's always with us, but then [there are people who join because] we were down the street from them that week."
He notes that many members also frequent other groups, and that "connecting all those people … makes for a fun community." Rainier Runners boasts over 900 followers on Facebook, with an average weekly crowd of 15 to 25. 
The club leaders all affirm that they target experienced runners and newbies alike, and Quigg encourages new attendees not to be intimidated.
"Your body is a lot stronger than your mind," says Quigg, describing how one of his favorite parts of hosting the group is watching new runners improve: "They start out slow, and they keep coming back — and the next thing you know, they're right in the middle of the pack!"
While the group doesn't always meet at breweries, Quigg has a strong appreciation for Seattle beer. After a run, he typically reaches for a local IPA, citing Elysian Brewing's Space Dust and Georgetown Brewing Company's Bodhizafa among his favorites.
 
Bringing People Together One Pint at a Time
Run club leaders are unanimous: the most rewarding outcome is seeing the strong communities that are formed. They love that their groups not only help people stay fit, but also foster new friendships, shared experiences and a chance to recharge mind, body and soul.
"It's been really fun journey," Quigg muses fondly. "Even if I'm having a bad day, I end up enjoying the run and the people. I've gotten a lot of joy in different areas that I didn't see coming. … Yeah, it's a running group — but there are a lot of good friends here, too."
Run club is a world unto itself, encapsulating all of the cycles, struggles and victories of life. Sweat drips. Endorphins spike as runners struggle through the last mile, pushing one another to go faster and farther. Friendships are forged, tested and strengthened. Relationships start and end. Family members come to meet the gang. Babies are born and brought swaddled in strollers, their ambitious parents fighting gravity and fatigue to bring them along for the ride. 
"It's been fun to experience those new changes with people, and see how they grow," Friedman observes. 
As these communities grow, they extend beyond the interpersonal to encompass local neighborhoods, and the businesses that open their doors to the groups each week. As Kwan notes, the relationship works both ways: runners become repeat customers, and patrons and staff become club members, as well. 
For example, Aaron Ross, former tasting room manager at Lucky Envelope, joined Frelard when preparing to become a father. Kwan has attended both Frelard Run Club and FBRC, and notes that bartenders at the Bike and other breweries occasionally join the ranks. 
"There is a huge interest in running groups," Conway adds. "Seattle is a running-driven city, and people see — and want to be part of — not just the beer culture, but the larger community."
And so, every week, the clubs run. And with every run, they build their bonds. They run in rain, snow and blistering heat; in darkness and in light; when there are only a handful of runners and when there are 50. Members come to the community's living room to share drinks, stories and kinship well into the night. 
"The beer is just an excuse to get together; the space is a place to do it. Your gathering space becomes a community," says Forhan. "It becomes a second family. And who doesn't need as much family as they can get?"